Dining at Mazayen
Wadi Rum Luxury Camp
Mazayen Rum Restaurant boasts the best traditional cuisine in Wadi Rum. Our restaurant is staffed by a head chef, sous chef, roast/grill chef, pantry chef, pastry chef and assisting chefs. At our restaurant our guests can expect the best presentation, quality, taste of local traditional dishes as well as international cuisine. Food is our passion and presentation our delight.
Restaurant
For those of our guests whom are enjoying an overnight with us, breakfast and dinner are served at the restaurant. The breakfast buffet is prepared fresh daily with various kinds of jams, cheeses, meats, eggs, vegetables, and bread. Breakfast is served with tea, coffee, milk and juice. Dinner is an event at the camp. The dinner buffet is available every evening at the restaurant and other outdoor seating areas. Dinner is prepared fresh daily which include soup, various salads, various rice (steamed white/basmati/brown..), pasta, various vegetables (grilled/steamed/stewed..), meats (lamb/goat/beef), fish (fried/baked), assortment of Arabic desserts, and the featured traditional Bedouin dish (varies from day to day). If one of our guests has any food restrictions or allergies, we are happy to prepare a special dish at their request. Additionally, a lunch buffet can be arranged per advanced notice. Also available are lunch boxes for guests who are on tour and would like to have something with them in Wadi Rum, aside from returning to the camp for a lunch buffet.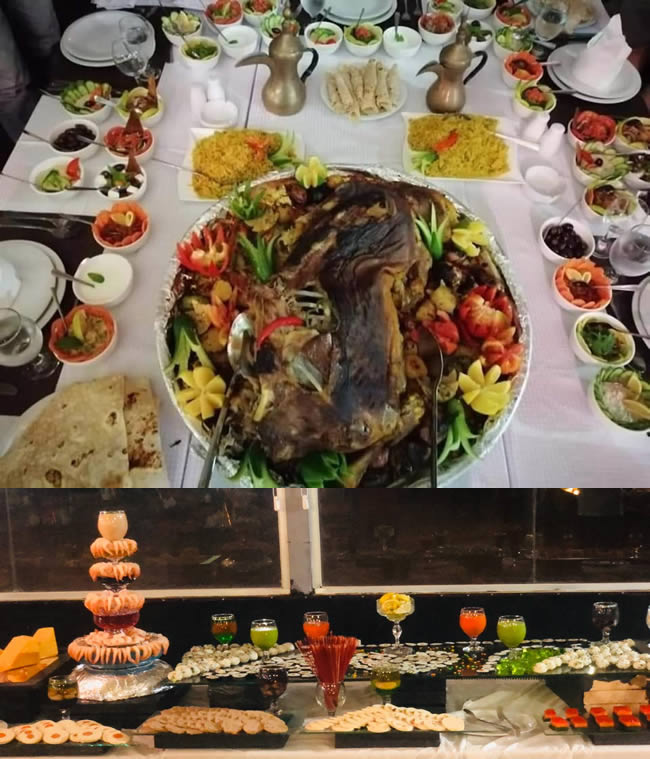 bedouin tent
Mazayen Bedouin tent based in the middle of the camp to give you the best the best experience in the desert to enjoy the Ture arabinan ambience at this typical good quality Bedouin campsite, with traditional carpets low tables and cushions for comfortable seating and relaxation . The Bedouin tea in mazayen camp is very different of any another place as it's served as a kind of hospitality in the Bedouin society where you can sit by the fire to sipping delicious Bedouin tea with the Bedouin traditional music and folklore and some dancing.